Come and Meet Our Haitian Board of Directors
Saturday, June 5, 2:30 PM Morningside Baptist Church, 1115 Pelham Road, Greenville, SC
On June 5, Mission for Haiti will be hosting a "get acquainted luncheon" with our five Haitian Board Members: Pastor Dieupie Cherubin, Josuѐ Laguerre, Pastor Jean Toussaint, Pastor Salomon Cadet, and Pastor Rejouis Jean-Maxis. You will be blessed to hear these men's testimonies and get acquainted with them. Each one presents a different viewpoint of his branch of ministry. We sincerely praise God for His divine appointment of these men.
We welcome as many of you as can attend. However, we will need a head count in order to know how much food to prepare.
Please call or text us at (864) 631-2233 by Monday, May 31, with the number of individuals who plan to attend.
---
Blessings From Our Recent Trip
Our first blessing came as a result of hearing the testimony of Jean Marc Com-pere, a recently converted witch-doctor from the Mont Fleuri community. In all our years of hearing such testimonies, we have never encountered one who has cut his ties with the voodoo world as drastically as this man. He destroyed not only all his fetishes but also the money he had earned, and everything else asso-ciated with his craft. He testified to the peace he now feels and the light he now ex-periences from not living in the darkness of satanic lies and obscenity. In the one month following his conversion, his testimony has already resulted in his next-door neighbor coming to Christ on the Sunday we were there. Jean Marc's conversion will have a rippling effect in the community as former "clients" and other witch-doctors witness the changes in his life. During our visit with him, he made this statement: "During my many years in this lifestyle, I was frequently aware of God's spirit calling to me." Our visit with Jean Marc lasted over an hour, and it was glorious! We left his house with a song of praise to our Savior in our hearts!!
"I will sing to You among the nations, for Your mercy reaches unto the Heavens."
Psalm 57:10
Our second blessing was to witness the 34 adults who had been baptized in February as they came forward to receive their baptismal certificates along with the right hand of fellowship for membership into the body of believers of Hosanna Baptist Church. Praise the Lord!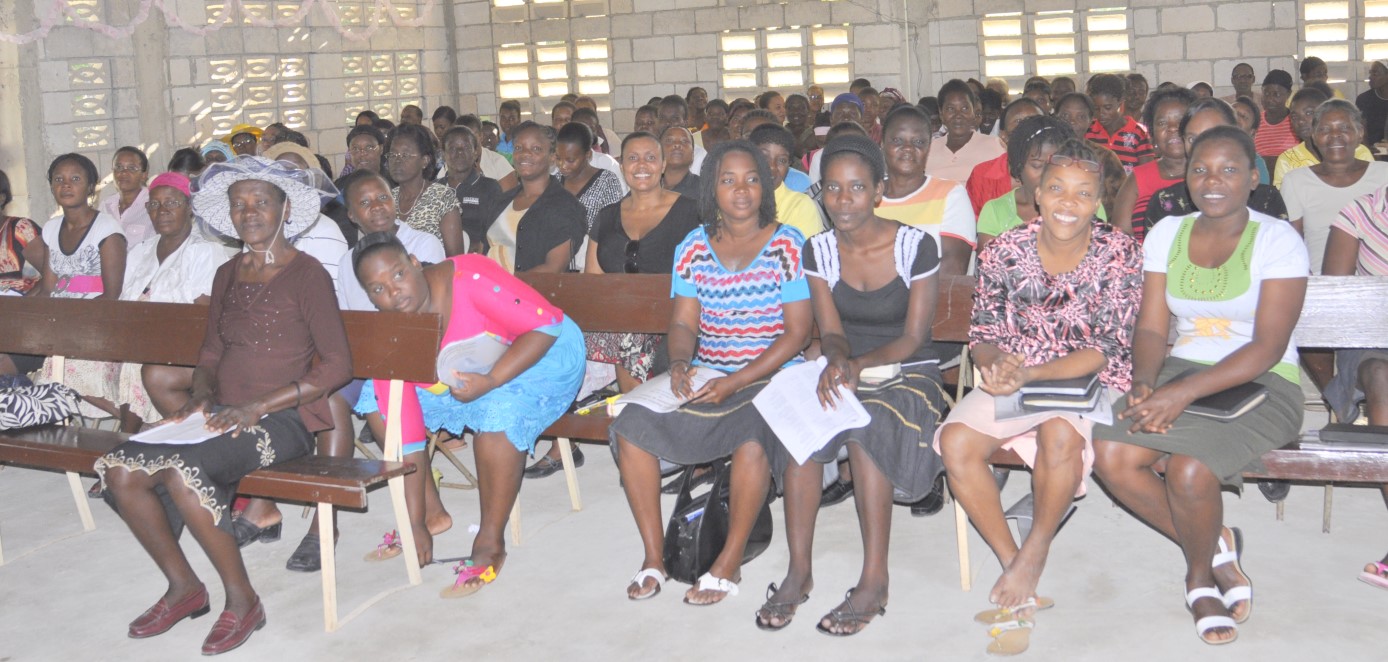 Our third blessing came through Mrs. Andrea Pisarcik, one of our Board members, as she hosted her ninth ladies' retreat at Camp Bossier by the Sea. Her theme was transformation, using the example of the caterpillar and the butterfly. Andrea and her co-speakers, Dr. Yolle Guirda Pierre (Christian Psycholo-gist) and Dr. Daphnee Charleus (Internist), covered topics that were a big blessing to the ladies. Our cabins sleep only 100, and the remaining 75+ ladies bedded down on the cement floor in our all-purpose building, enjoying the fellowship of one another!
Our final blessing began on the Monday prior to Easter, and ended on Easter Sun-day. Hosanna Baptist Church always has a week of revival services leading up to Easter Sunday. The Holy Spirit was doing a work each night and brought 13 souls to the Savior. Then on Easter Sun-day, following the preaching and the Lord's Supper, Pastor Dieupie felt the Spirit of God pushing him for another altar call. So as the congregation began singing again, person after person walked down the aisle, until seven individuals had come forward to re-ceive Christ as Savior!! Hallelujah!! What a glorious and perfect ending to a week of Easter revival!!
Please Pray With Us
We have not mentioned the social, political, and economic situations in Haiti, but the prob-lems and demonstrations continue to exist!! The most
severe problems are in Port-au-Prince; and we praise the Lord that Jacmel remains basically quiet. We continue to ask believers to pray, because God is the only one who can alleviate the suffering. Our prayer is always that God will use these traumas to bring about a national revival!
---
"I thank my God upon every remembrance of you, always in every prayer of mine making re-quest for you all with joy."
Philippians 1:3-4
We are powered by your prayers and enabled by your gifts, Thank you!
Tom, Sarah, and the Haitian Board of Directors